Mandevilla by Laura Worthington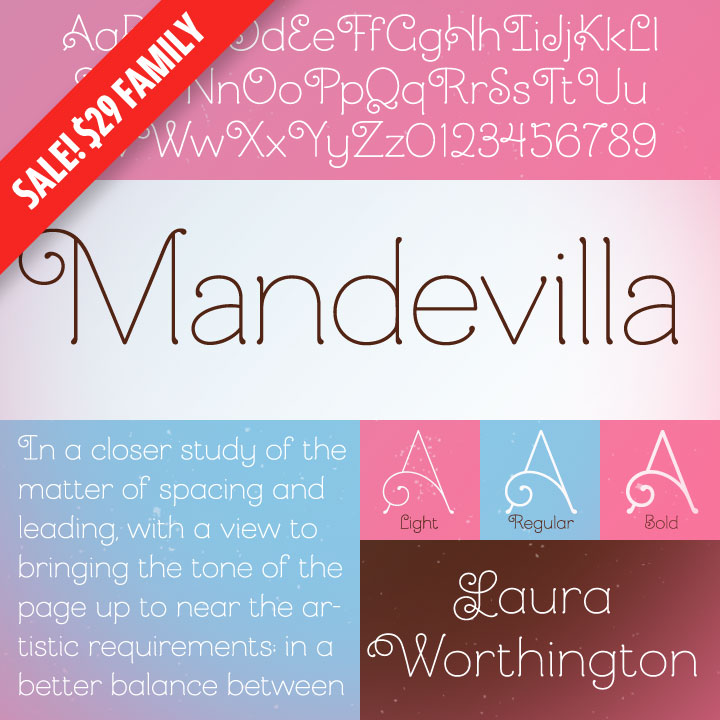 Laura Worthington keeps up the cute with her latest, Mandevilla. Lots of curls, a ton of alternate glyphs and a very sweet flavor will make this unique family a useful addition to your font list.
Barmbrack by Blue Vinyl Fonts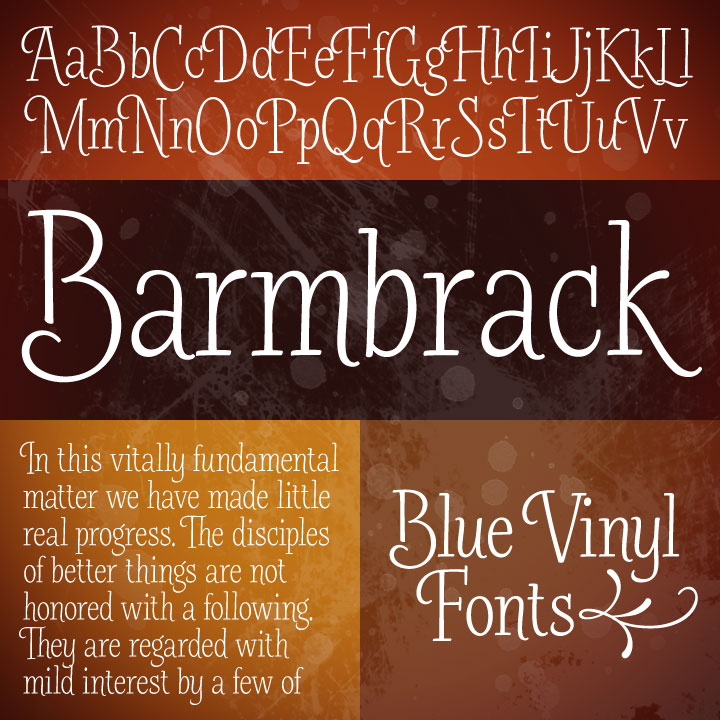 Blue Vinyl impresses again with this beautiful display font called Barmbrack. Inspired by decorative Victorian showcard lettering, it's flowing lines and slight whimsy makes this a great font for setting titles. The family includes a small caps variant as well as a complete set of matching ornaments.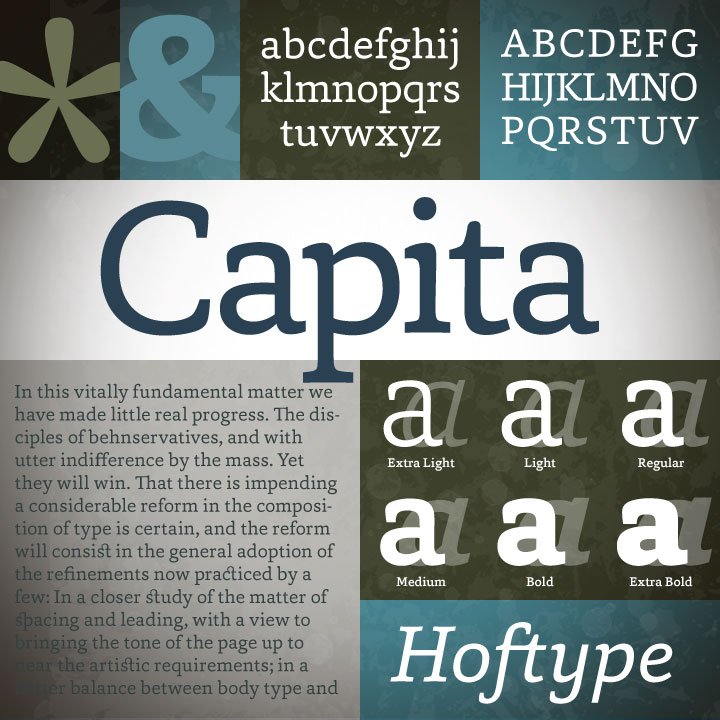 Hoftype, with a strong portfolio of text faces, delivers another variation in Capita. This warm face with slab-like serifs has a full complement of weights, italics, small caps and number style variants.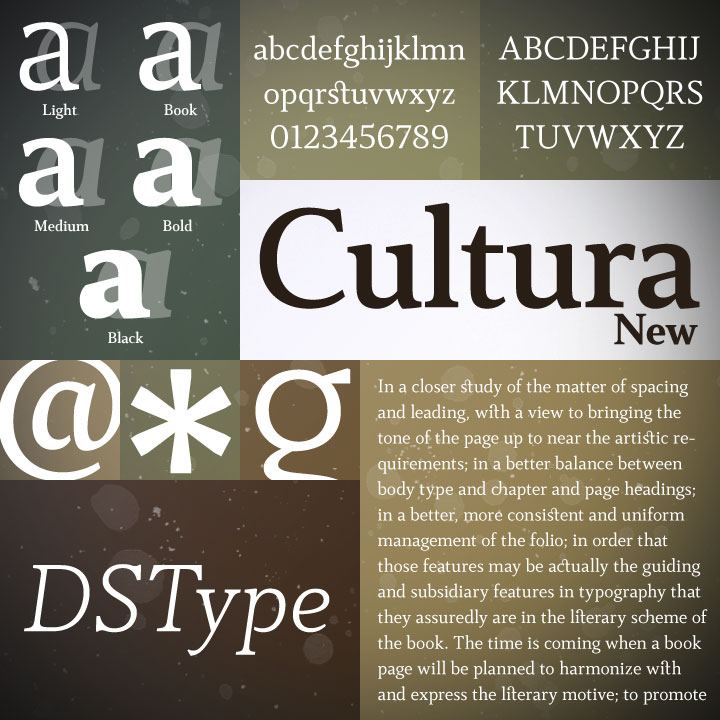 Cultura New from DSType is an old-style text face with a few non-traditional characteristics. Generous x-height and a nice range of weights and styles make this a hard-working family.

Inspired by the constructivist typefaces of the 1920's, RType's new Azo Sans uses geometry (particularly the Golden Section) to develop the family's structure. Nuanced in the right places, Azo Sans is warmer and friendlier than other geometric sans.

New Foundry:

We are thrilled to partner with Schizotype and offer his amazing collection of display and script fonts. You've only got a couple of days to take advantage of a special introductory offer of 25% off all his families. Expires February 1st. Don't miss it!

Quality Foundry:

Exljbris fonts are a staple in many designer libraries. His fonts combined with his no-nonsense, easy going attitude have endeared us to him. If you don't know what we're talking about, go, right now and download some of his free fonts. You will be just as hooked as we are.

See all our sales on our sales page.

"I'm sure you already know this, but your licensing is freaking awesome, and super classy. Thanks for being a great company."
Mark - github.com
"Finally! Someone who understands there's a market for high-quality fonts with reasonable license terms for ebooks."

Rob - 52novels.com

"I must say, getting this license has been a breath of fresh air!"

Dan Burzynski - MOO.COM

"I had problems with my blog (declaring some custom fonts) and went online to research the issue. I found Fontspring's video but had some further Qs and contacted Fontspring support team. Dan was very helpful and did a lot to help me resolve my issue. I would happily recommend them."

Pavlin Penchev (United Kingdom)
Tell us about your Fontspring experience!

Form Follows Function

Antiquarian
Ebook Shop

Below
The Boat

This amazing demo site by developer Jongmin Kim showcases a collection of interactive experiences created purely in HTML 5. Warning! Visiting may consume a good portion of your day. Enter at your own risk.

"Face it—eBook sales are up, analog eBook sales are down. Pretty soon collectors are going to realize that normal people no longer share their bourgeois fascination with things like the bittersweet aroma of ink on paper, or the satisfying heft of a classic hardcover, or the fact that books don't randomly turn off when you forget to charge them".

Robbie and Kara Johnson recently started selling these incredibly detailed, wooden topographic maps of water bodies. Charting the east and west coast of the US as well as many lakes, you'll find something here you suddenly "need".