Tenso by exljbris

Tenso is a playful grotesk sans with a lot of character. It has a higher than normal stroke contrast which differentiates it from other grotesks, and includes a real italic. This balanced mix makes it suitable for all kinds of publications, apps, and websites.
Qubo by Hoftype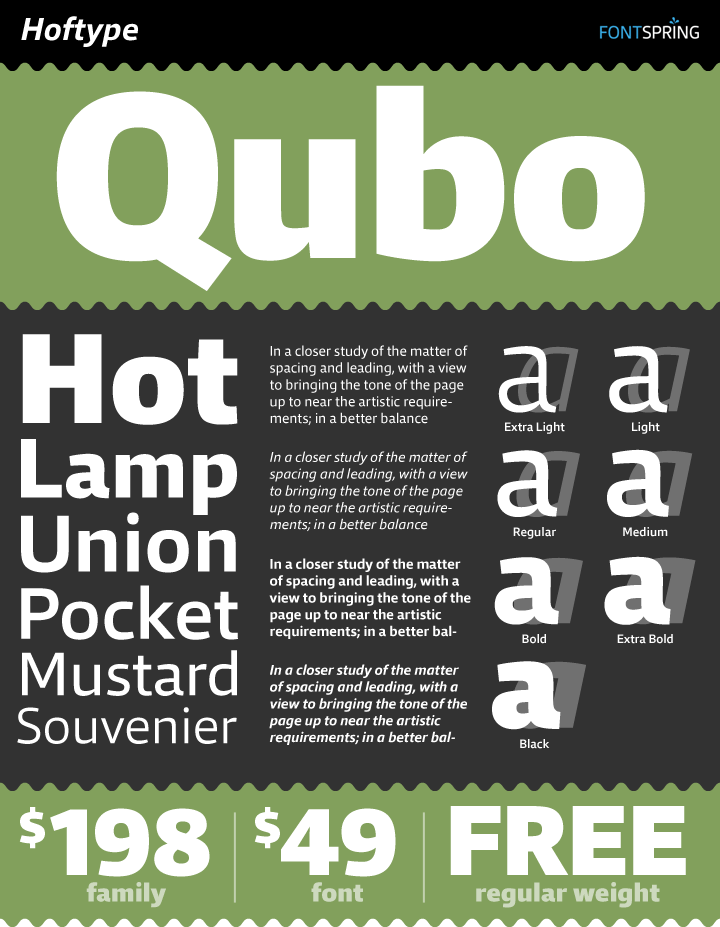 Qubo is a cool, neutral and versatile typeface. The slightly squared round elements give an open and elegant look. It works superbly in both print and web.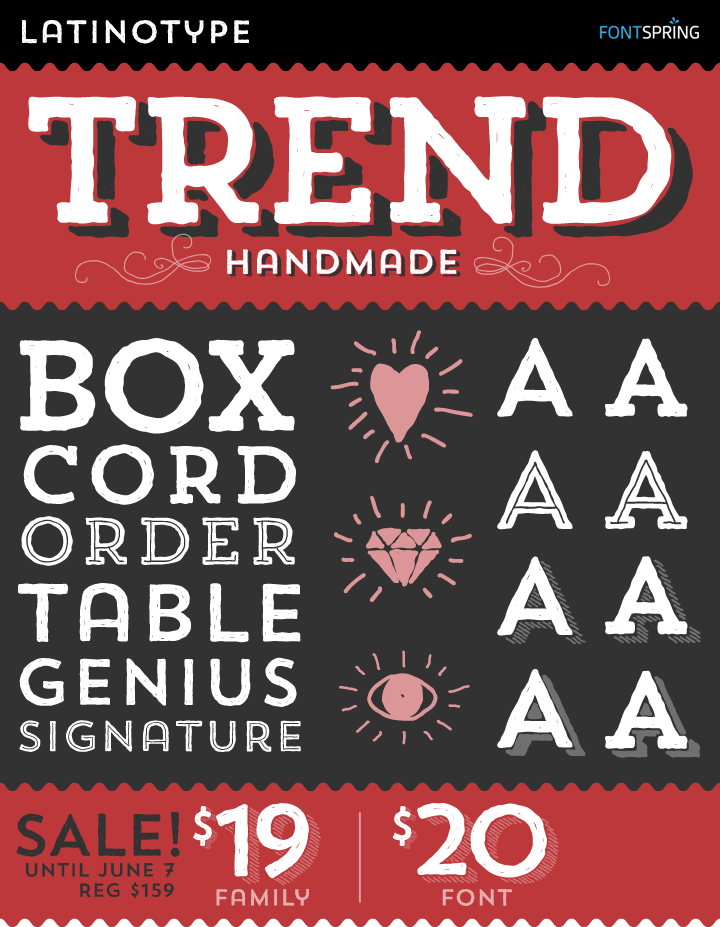 Trend Handmade builds on Latinotype's Trend with hand-drawn versions of the family. Also included are ornaments with many nice flourishes and dingbats. On sale for $19 until June 7th.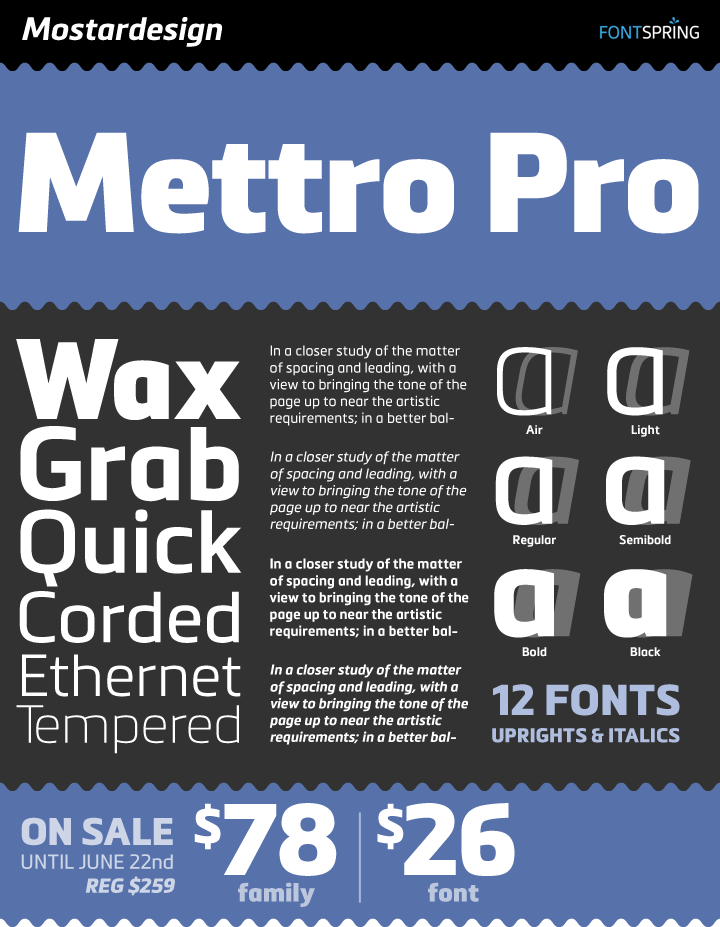 Mettro Pro is a sans-serif typeface with a technological and minimalist look for text and headlines. It has six versatile weights from Air to Black with an alternative glyph set to improve its use in different graphic contexts. The family is on sale for 70% off until June 22nd.
Harlean by Laura Worthington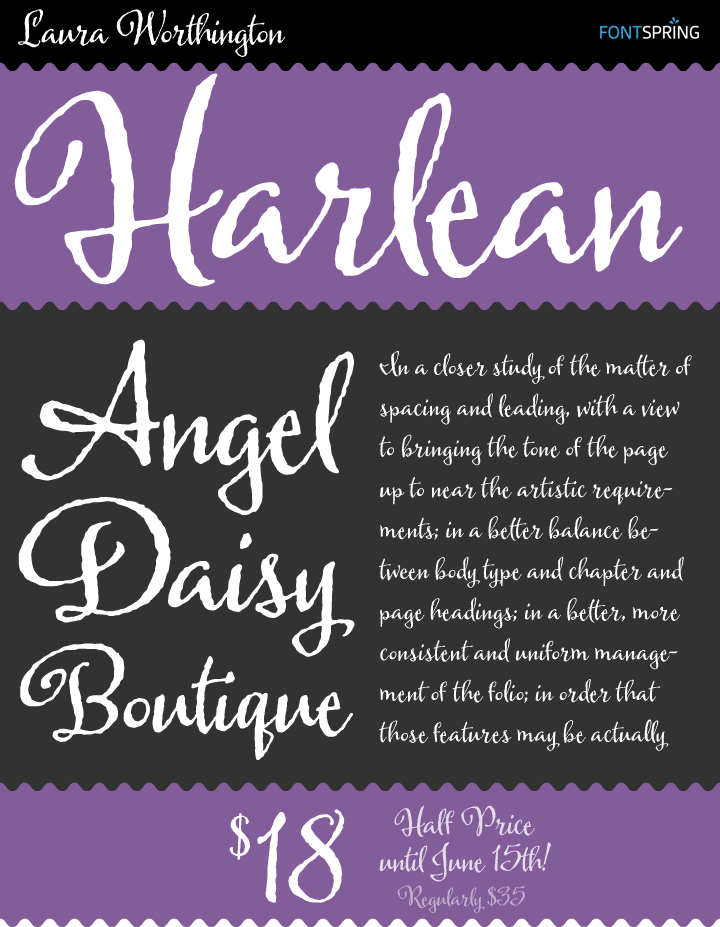 Not your typical script font, she's quirky, brazen and a bit irreverent. Always speaking her mind, she tells it like it is and leaves no question about where she stands. Harlean was rendered with a flexible nib pen that speaks in a different voice than her fellow script fonts. If your next project calls for a striking and unique look and feel, give Harlean a shout. Get it for 50% off until June 15th.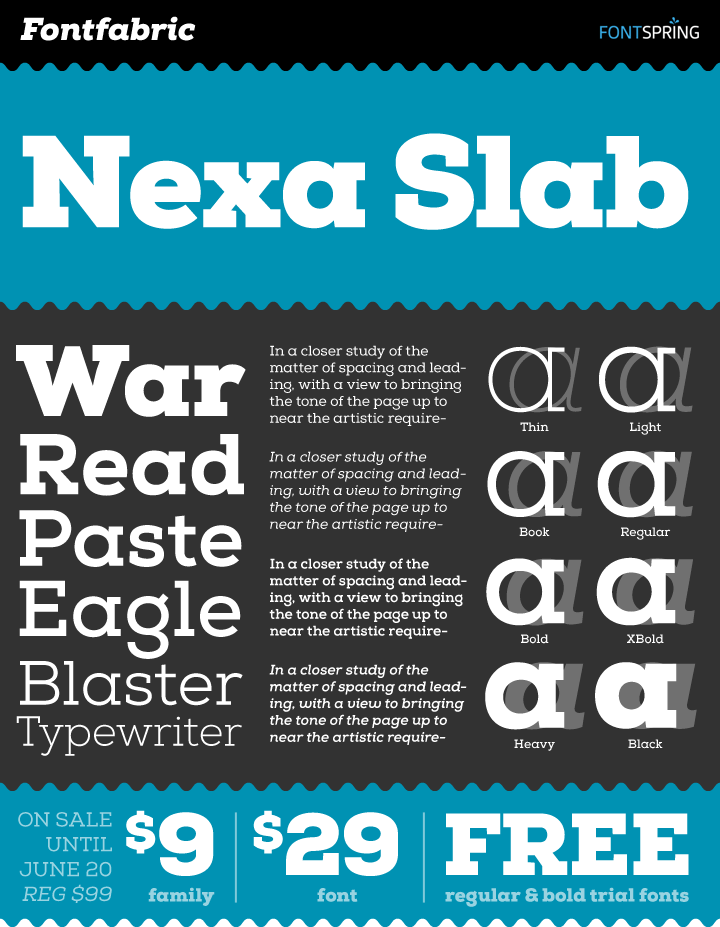 Nexa Slab is the geometric slab serif version of the popular bestseller Nexa. A full-featured family with an incredible intro discount make this a no-brainer. Save 90% off the family until June 20th.


Tell us about your Fontspring experience!

Bubble Wrap Typography

Vintage
Design

The History
of Typography

Thinking "inside the box", Lo Siento Studio created some imaginative 3-dimensional type using bubble wrap and colored liquid. It's a combination of two of our favorite things: typography and...bubble wrap.

Jeremy Pruitt created a great Pinterest board you'll instantly devour entitled "Vintage Design" which has an endless collection of...yes, you guessed it, vintage design. Be warned! This may occupy a large portion of you day.

Watch this cute stop motion movie by Ben Barrett-Forrest describing the history of typography. Five entertaining and educational minutes well spent. Watch while you eat lunch today.
First Public Use of What Became Proxima Nova
OOPS! Last month we highlighted Mark Simonson's blog post on some history of Proxima Nova but got the link wrong. The article was really great, so we're trying again. Enjoy!