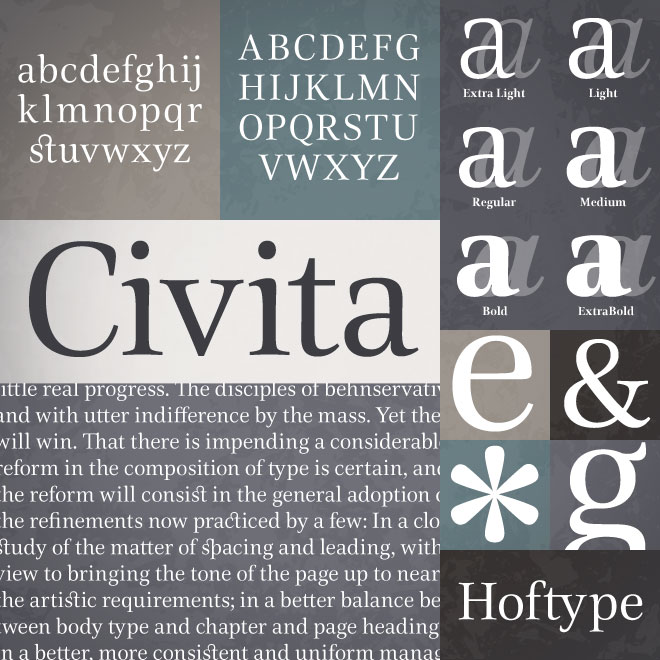 Civita by Hoftype is a warm, high-contrast serif family with a strong personality. Plenty of weights, OpenType features and language support make this another Hoftype winner.
Entity by Wordshape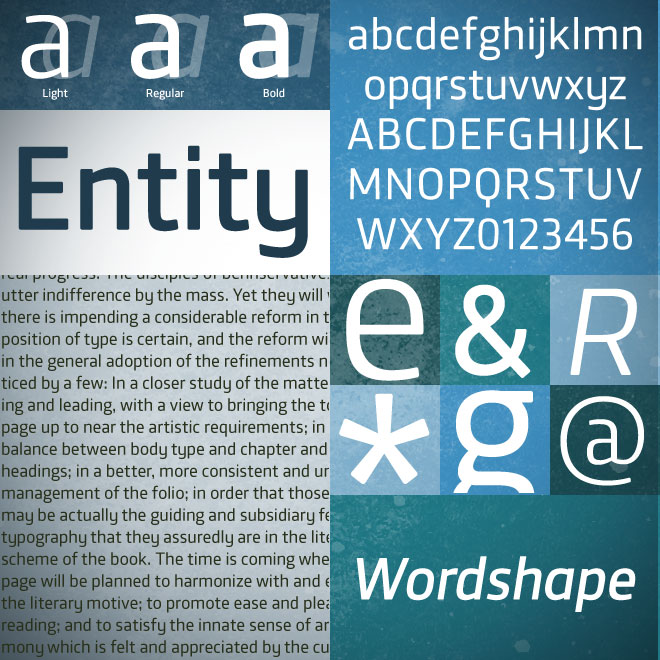 The new technical sans family from Wordshape has a warm feel, and works great on screen or in print. Its slightly rounded corners and humanist underpinnings make it approachable, setting it apart from colder families in the genre. And, wow, great pricing!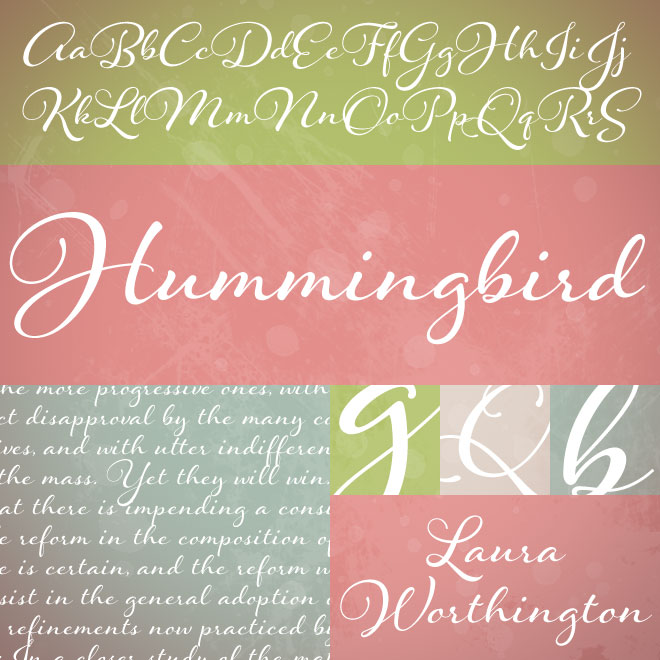 Laura Worthington never disappoints and her latest is no exception. Hummingbird is a masterful script that's not only beautiful but readable. It is classy, not stuffy and should find a place anywhere there's a need for elegance.

New Foundry:

Kustomtype, a brand new foundry with Fontspring has a great feel for retro lettering. His first and only two fonts are perfect for vintage designs, from posters and t-shirts to comic books.

Quality Foundry:

Typodermic's motto has to be something like: "affordable fonts, no matter the application." His desktop fonts are reasonably priced and include a free unlimited webfont. Need one for an app? His are priced below everyone.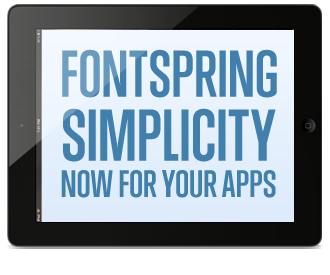 App Font Licenses
Fontspring Simplicity Now For Your Apps and Ebooks.
In the past, if you wanted to license a font for your app, you really only had two choices: Use a commercial free font and hope that the font doesn't have any kerning/compatibility issues. Or, you could email back and forth with type designers, lawyers and distributors to find out which license you're covered under, or how much you need to pay for one. Those days are over! Fontspring now offers worry free application licenses. Buy the license for your app and it covers unlimited sales, platforms, and updates. Affordable? Try starting at $150. Easy? We dare you to find one elsewhere with less clicks, and less lawyerese reading. The future of app licenses is here.
Purchasing your app license is very similar to how you have always licensed fonts with Fontspring. Visit the font's page and click the drop down to change your selection from the default desktop/web-font choice, to application then click add to cart.
To learn more about extended licensing visit our app license page.

We received some great feedback about our new app licensing. Thank you all very much for the compliments. It really brings us much joy! Here is what a few of you said:
@fontspring aye yai yai hassle free #fontface for apps. #goodwork
Halee Janes - @haleejanes
Fonts for apps and ebooks, with simple, easy licensing. Finally.
Mike Berg - @weheartgames
VERY USEFUL: Fonts for apps and ebooks, with simple, easy licensing. Finally.
The Game Bakers - @TheGameBakers

Contrast
Rebellion

Deep Font
Challenge

Bob Dylan
Hand lettered

Need a cause to get fired up about? How about the lack of contrast in websites these days? Your site can look great, but if there's no contrast, you can't read it! Join the Rebellion today.

How many fonts can you identify by looking at them, while shooting the wrong ones? A thoughtful but fun diversion. We'd challenge you to a match or ten, but then we'd never get new fonts online...

If you're too old school for kinetic typography, check out these hand lettered cards. Great music and great fonts just seem to go hand in hand!