Why buy an app font?
The impact of a clean font cannot be overstated in design. It's the glue that pulls everything together, it's what conveys the information. This importance only grows when dealing with apps that can end up on small screens. When viewing space is at a premium, you need a clean font that can be read and interpreted quickly and easily. Or maybe your app has a unique visual style, a high quality font is the best way to pull that look together.
---
Why Fontspring?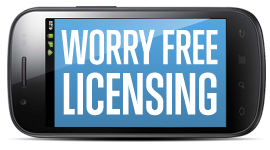 Fontspring has always sought to be the industry leader in being easy to use and customer centric. You can see this in every aspect of our site, from our web font pricing structure to our open use license. Now we're taking that leadership and applying it to app licenses. When you want a font, you want to pay once for it and not worry about it ever again. You don't want to estimate how many apps you'll sell or what platforms you'll release on, you want to pay for it like you would any other product, once. Our app license pricing lets you do just that. Pay one price for your font, and use it in your app. Update your app, sell a million copies, port it to any platform, still pay one price.
---
How To Purchase
Purchasing your app license is very similar to how you have always licensed fonts on Fontspring. Visit the font's page and click the drop down to change your selection from the default desktop/web-font choice, to application, then click "add to cart". In the cart you can change the quantity of apps or select unlimited if it is an option for that particular font.
---
Licenses
Most of our app licenses are identical. If they aren't, they have the same nuts and bolts. Each font family page has a license tab that shows the actual licenses for the Foundry. Below is a link to a typical app licenses that you can read over to give you a general idea.
NOTE: If you have other usages that you don't think are covered, you can visit our custom license page, or simply contact us. We can negotiate custom licenses for your needs.