Licensing
Worry-Free Font Licenses
A Worry-Free license covers all the uses you expect and doesn't have any onerous requirements
Not all font licenses are created equal. For example... designers expect to be able to create branding with a desktop license, yet some licenses don't allow logo creation. The Worry-Free badge is an easy way to filter out fonts with onerous or unexpected terms hidden in the licenses. We're dedicated to making licenses easy to understand, without hiring a lawyer. Font licenses should be one step in the font buying process, not the lion's share.
The Worry-Free Guarantee
A Worry-Free badge guarantees that the font license covers the most common rights and uses a typical designer would expect.
Find Worry-Free Fonts
What Makes A License Worry-Free?
Desktop
Desktop licenses are really the reason we created the worry-free badge. With so many font designers using their own license, it was important to highlight the licenses that don't allow usages most people expect. It's an easy way to check at a glance if a license includes the restrictions you expect it to, or if you may need to explore an extended license for your usage.
What you can do
Create fixed-size images and use them anywhere.
Logos & Branding
Broadcast
Websites
Software
Terms
Use images unlimited times, in unlimited places, forever.
Unlimited Impression
Unlimited files
No "large campaign" limits
Perpetual terms
Web Font
Embed webfont files in your website html and gain the efficiency and flexibility of web fonts. A Worry-Free web font license includes:
No cumbersome, speed-robbing pageview tracking
Unlimited domains
Perpetual terms
Application
Embed fonts in your applications and boost sales and usage. A Worry-Free application license includes:
Unlimited apps with just one license
Generous user limits with no tracking software required
Unlimited platforms. iOS, Android, and Windows? One license
Perpetual terms
Ebook
Embed fonts your ebooks to make them more beautiful and reduce fatigue. A Worry-Free ebook license includes:
Unlimited copies of the ebook title
Unlimited ebook formats
Perpetual terms
Frequently Asked Questions
Actually...Nothing. The Worry-Free badge is something we created to support a core value that we've always had and are already known for...we just got even better, that's all.
Why Allow Fonts Without Worry-Free Licenses At All?
Some fonts are very prestigious and valuable for branding. The font's creator has invested significantly to create such a valuable product and therefore it demands a higher price. By offering a more restrictive license, the font designer can offer the font to you at a more competitive price if you don't need it for the usages that are excluded. We want to be able to offer these fonts to those who want them without compromising our long standing reputation of Worry-Free fonts.
Are Licenses Without The Worry-Free Badge Bad?
Not at all. If you really love a particular font without the Worry-Free badge, no problem! It's just an indicator that you may need to get an extended license for uses that you might not know aren't included. Extending a license to include more uses is still very affordable and only an email or phone call away.
How Do I Find Worry-Free Fonts?
Filtering Tools
You can easily show Worry-Free licenses and take all the guesswork out of your font search.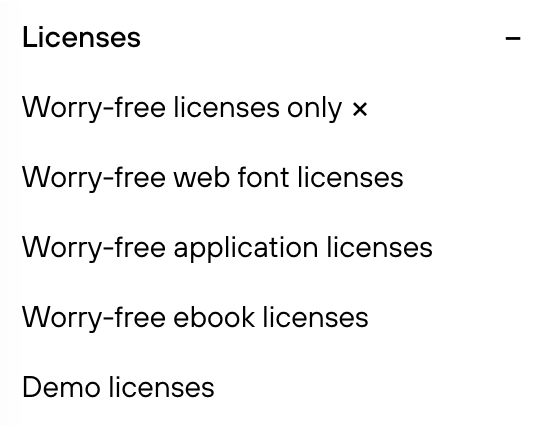 Add to Cart
When adding a font to your cart, licenses marked with a check are Worry-Free.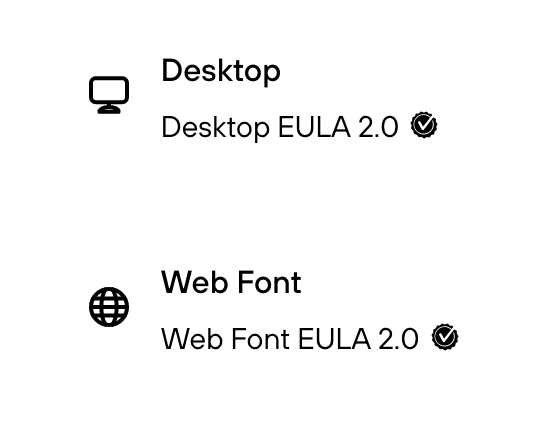 Product Pages
On each font's product page, the available licenses are clearly marked if they are Worry-Free.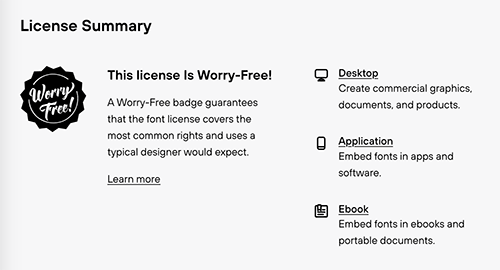 Find Worry-Free Fonts