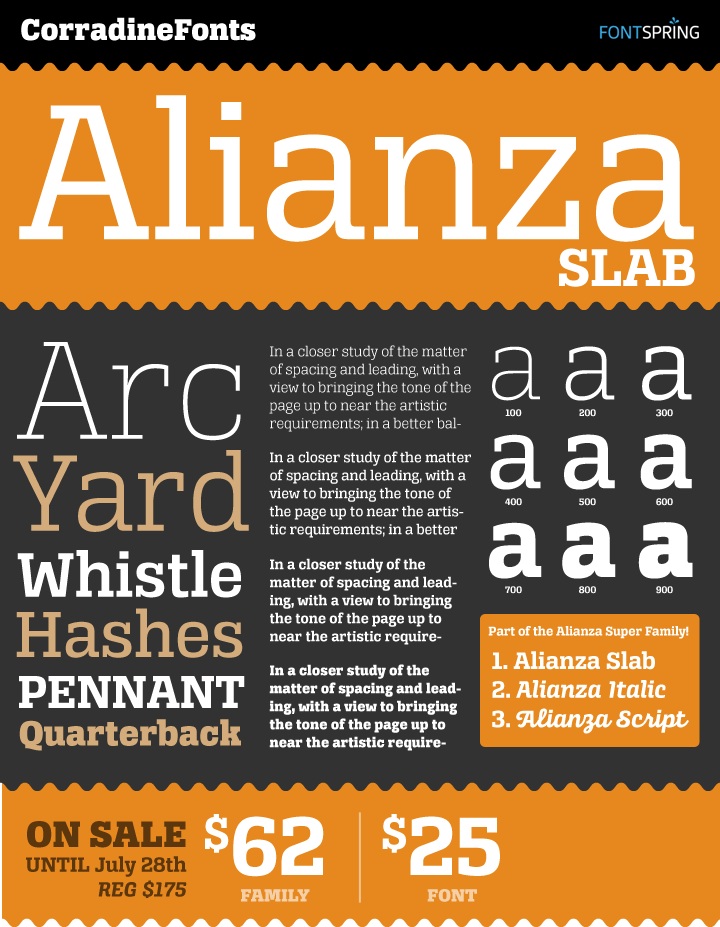 Alianza Slab is part of a larger super-family by Corradine Fonts. In a huge, 9-weight assortment, this family will be especially useful for headline work. Match it with the Italic family and the Script family (don't forget ornaments too!) and you have an incredible type system ready to go. Is a sans version coming next?
All Alizana families on sale for 65% off!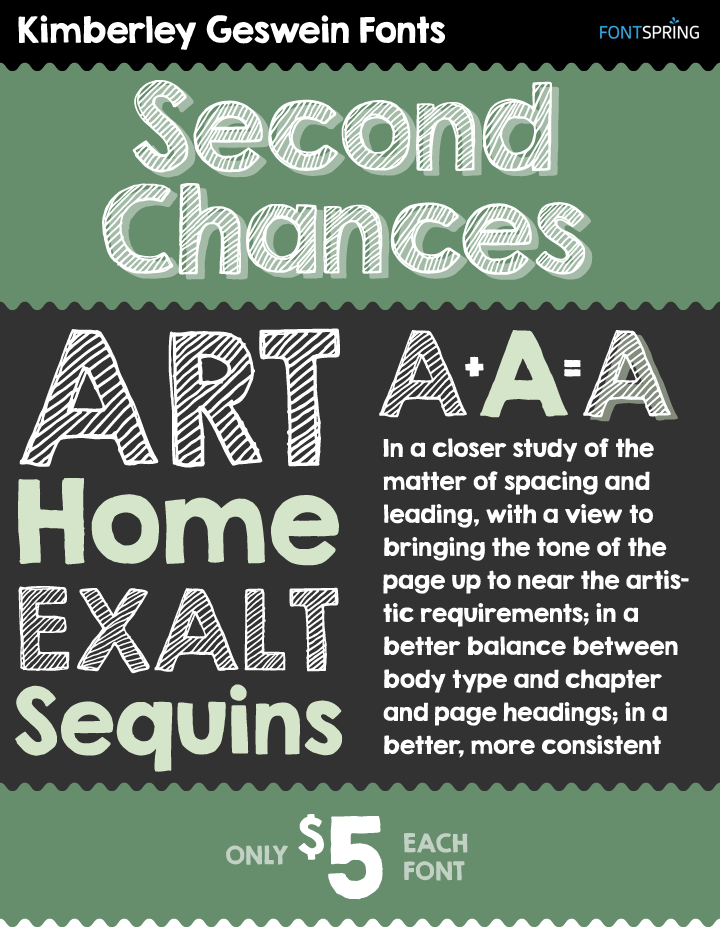 Always a sucker for inexpensive, handdrawn headline fonts, Kimberly Geswein satisfies our itch. KG Second Chances is a fun, bold font that can be used individually or layered.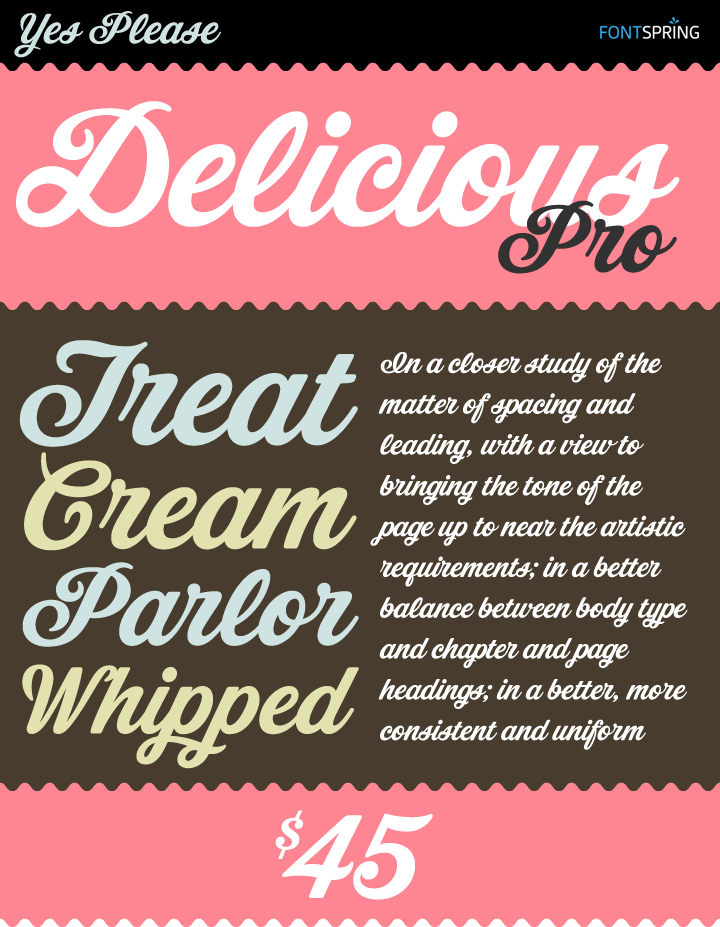 Delicious Pro from Yes Please is a delightful, buttery script font in the Americana style. With great flow and rhythm, this font will always be in style.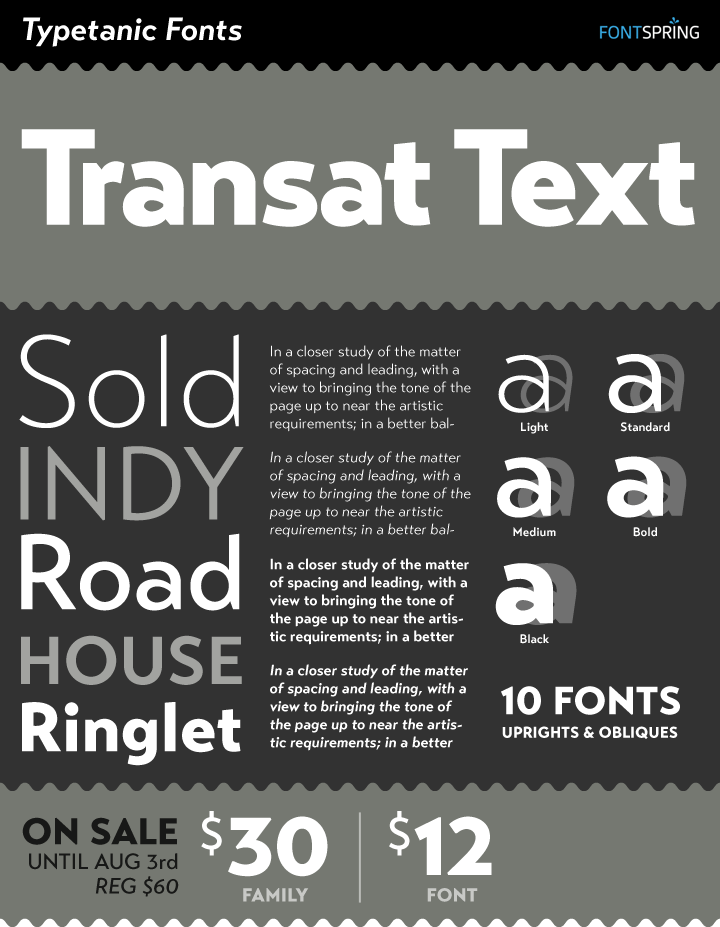 Transat Text is a geometric/humanist sans serif typeface, and sibling to the more stylized Transat. Transat Text has a wonderful feel in both text and display with a subtle retro flavor. One of our favorite new sans this year.
Transat Text is now on sale for 50% off!
Quarca by Insigne Design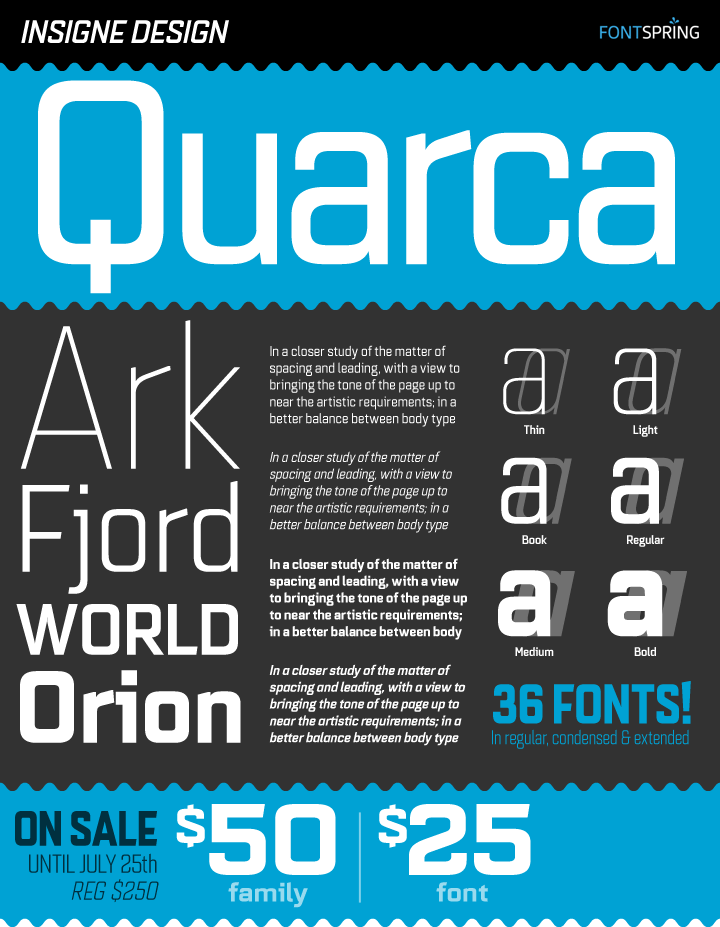 Quarca by Insigne Design is a huge family of 36 fonts--six weights plus italics. It's cold, mechanical feel with some slight quirkiness, makes it an interesting alternative to others in the genre. What really sets it apart are the hundreds of wild OpenType alternatives that really give you a unique look. Be sure to click through to see what we mean.
Quarca is currently on sale for 80% off!

"Holy cats that was fast!"
(After emailing us with a font licensing request)
- A. Liebl
"John @fontspring is today's hero. What a champ. Awesome fonts and world class customer service. Appreciate your help amigo."
- A. Rudkin
Tell us about your Fontspring experience!

| | | |
| --- | --- | --- |
| | | |
| This site seeks to compile graphic design samples and categorize them by style and devices used. Goes to show there is nothing new under the sun. | Jessica Hirsch gives an incredible view into the daily life of a type designer. Full of creativity and hilarious ennui. | There's a site for everything. This Tumblr catalogs bird nests in typographic signage. We hope you enjoy this as much as we did. |